UNITRONIC INTERCOOLER | 2.5TFSI EVO

Description
Specifically designed to fit vehicles equipped with 2.5TFSI EA855 EVO engines, this Unitronic Intercooler Upgrade Kit is a direct OEM replacement featuring an over-sized 24" x 10.2" x 3.54" bar and plate intercooler made from a cast aluminum core and end tanks, proprietary internal fin and louver configuration, and a TIG welded construction.
Unitronic's 2.5TFSI Intercooler Upgrade is available with a black or raw finish and will resist heat-soak and provide efficient cooling in any driving condition.
Read the full release article here.

Features / Benefits
Highly efficient bar & plate intercooler core
Drastically reduces charge air temperature for cooler, more dense air
Significantly more resistant to heat-soak
71% more volume than OEM (Unitronic Core Dimensions: 24" x 10.25" x 3.5" / 610mm x 260mm x 90mm)
Cast Aluminum end tanks
Direct OEM replacement; no bumper, radiator support, or other trimming required

Hardware Included
Unitronic Direct Fit Intercooler Core for vehicles equipped with 2.5TFSI EVO engines.
All Necessary Hardware Included

Related Hardware
Unitronic 3 inch Intake System for 2.5TFSI EVO
Unitronic 3 inch Turbo Inlet Elbow for 2.5TFSI EVO
Unitronic Downpipe w/ Midpipes for 2.5TFSI EVO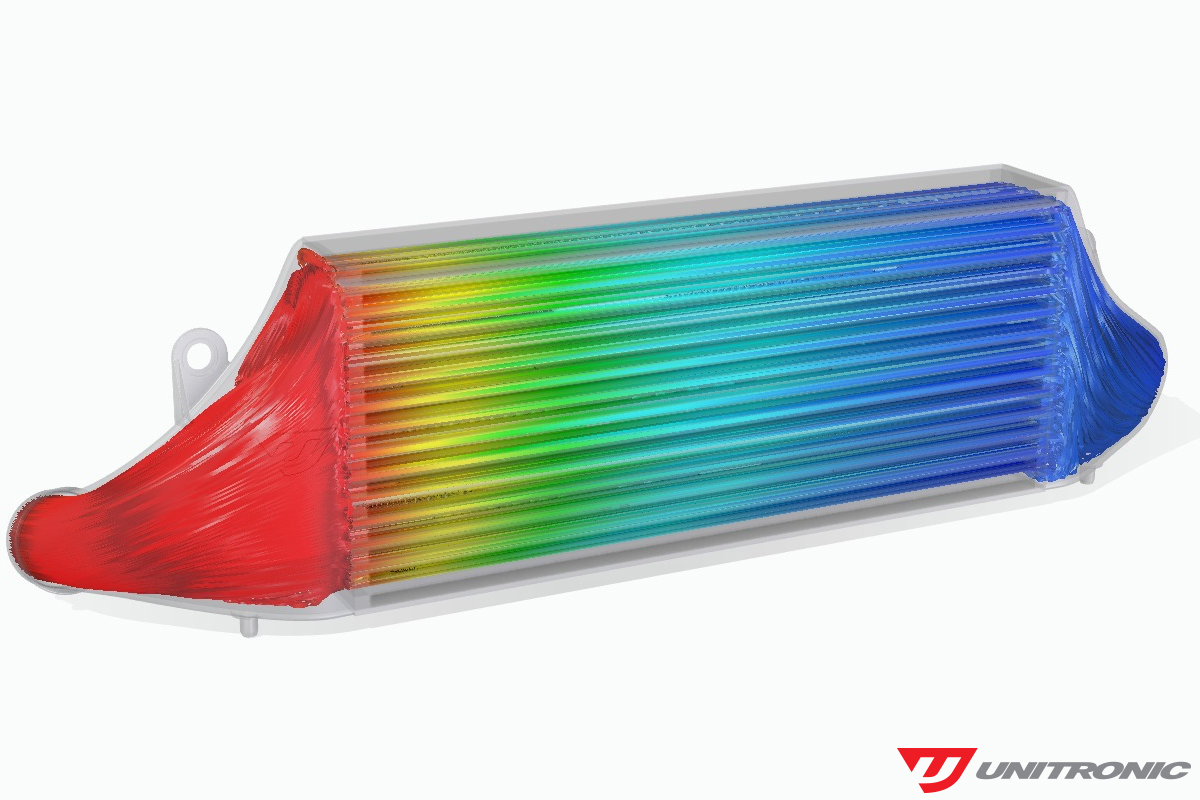 With upfront engineering fluid dynamics (EFD), Unitronic is able to hone in and refine the areas that are most effective in meeting our objectives. With the ability to perform different iterations from design changes we are also able to accurately predict how well our hardware will perform. Here is a predictive simulation plot operating within the same conditions it was tested in. Results illustrate and validate the actual data collected.

Install
The Unitronic 2.5TFSI Intercooler is a direct OEM replacement designed with 3D modeling technology, and can be installed within a matter of hours with moderate mechanical knowledge and tools.

Difficulty Level:
2 / 5
Installation Guide