034MOTORSPORT BILLET SPHERICAL DOGBONE MOUNT PERFORMANCE PACK V2
PRODUCT DESCRIPTION:
The 034Motorsport Billet Spherical Dogbone Mount Performance Pack without Dogbone Pucks for the Audi 8V.5 RS3 and 8S TTRS includes all of the 034Motorsport performance products associated with the dogbone mount in one comprehensive and convenient package. Included with this kit is the Billet Spherical Dogbone Mount, Upper Dogbone Mount Insert, Lower Dogbone Mount Insert, and all new hardware.
BILLET ALUMINUM SPHERICAL DOGBONE MOUNT

The 034Motorsport Billet Spherical Dogbone Mount is the new standard in performance and durability. This dogbone mount was engineered with performance in mind, manufactured from billet aluminum and stainless steel, and features a genuine Aurora Spherical Bearing to maintain proper articulation and reduce NVH transfer. The Billet Spherical Dogbone Mount is machined and assembled in-house, designed to eliminate the slop associated with the factory mount, and will better withstand the forces generated by hard launches.
The result is a locked-down drivetrain, crisper shifting, and virtually no wheel hop. The Motorsport Dogbone Mount will cause some increase in noise, vibration, and harshness (NVH) inside of the cabin.
Billet Spherical Dogbone Mount Features:
Bolt-In Performance Upgrade for Factory Dogbone Mount
Reduced Drivetrain Slop & Engine Movement Under Load
More Direct Power Transfer & Improved Shifting Feel
Increased Strength & Improved Durability vs. Factory Part
T6-6061 Billet Aluminum Body
303 Stainless Steel Spacers
Genuine Aurora Spherical Bearing
Rebuildable Design
New Factory Stretch Bolts Included
---
BILLET ALUMINUM LOWER DOGBONE MOUNT INSERT

This precision-machined billet aluminum insert is designed to fill the large voids in the factory dogbone mount, and limit transmission and engine movement without sacrificing ride quality or introducing any perceivable additional noise, vibration, or harshness into the cabin. By filling the void in the factory mount, this insert eliminates the associated slop and ensures that you're experiencing crisper shifts and a more direct, connected driving experience.
Engineered to work in unison with the factory rubber mount, this insert was designed using CAD software and thoroughly tested and refined to provide noticeable slop reduction without introducing excessive noise or vibration into the cabin, which is common with lesser designs. Unlike polyurethane insert options on the market, this billet aluminum part will not pack and wear over time, and guarantees long-lasting performance.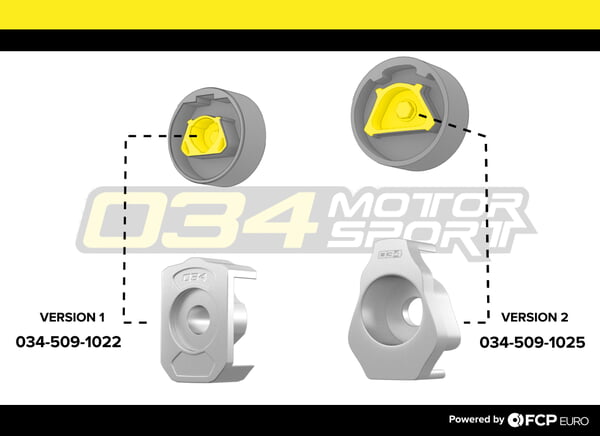 Drag to spin

SELECT THE CORRECT VERSION: Some Mk7 GTI & Golf R models are equipped with a different factory dogbone mount. To ensure fitment on your vehicle, please visually verify the mount you have using this guide, then select the correct insert above.
Billet Aluminum Lower Dogbone Mount Insert Features:
T6-6061 Billet Aluminum Construction
Clear Anodized Finish for Durability
Engineered to Fill Void In Factory Transmission Mount
Drastically Reduces Transmission Movement During Shifting & Deceleration
Improves Shifting Feel, Resulting in Crisper Shifts
Virtually No Additional NVH Transfer Inside Cabin
Easy, Straightforward Installation Takes Minutes!
Lifetime Warranty for Original Purchaser